Directed by the award winning director
Austin Pendleton

Judy Rosenblatt & Annemarie Hagenaars star in Donald Margulies'
COLLECTED STORIES
virtually at the 2020 KeyBank Rochester Fringe Festival
I hope you are doing well, and that you and your family have been staying safe and healthy during these crazy challenging Covid-19 times. I would love to invite you to see my performance as LISA in the play COLLECTED STORIES live on Zoom.
Hailing from NYC and the Netherlands, Judy Rosenblatt and I met over Zoom. Attracted and delighted by what we saw of each other's work and encouraged by the iconic director Austin Pendleton, we began to work on this engaging and multi-dimensional play. Over a period of 5 months, we delved into the depths of the two fabulously layered characters we portrayed. We delightfully researched the real life poet Delmore Schwartz, the secret love in Ruth Steiner's life, and explored the Beat Greenwich Village scene of the 1950s. At the zero hour, we applied and got accepted to perform at the Fabulous KeyBank Rochester Fringe Festival.
I would be thrilled and honored if you could make it to our virtual performance.
Thank you!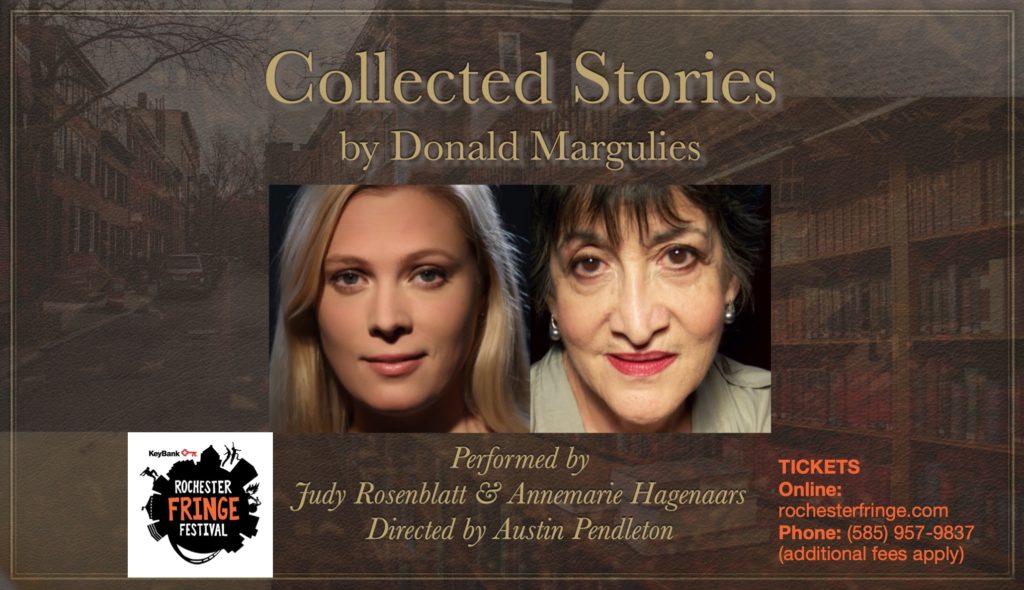 Words from the director Austin Pendleton: 
"I have seen many renditions of COLLECTED STORIES and never seen one that hasn't been very exciting. This rendition by Judy and Annemarie is right up there with the best of them. I would love to see them render the whole play. I think a lot of other people would too."  
The 2020 KeyBank Rochester Fringe Festival, will host performances
via ZOOM on:
Tuesday, 9/15 5:30pm; 
Saturday 9/19 5:30pm; 
Monday 9/21 6:30pm;
Thursday 9/24 7:30pm.
$5 tickets now on sale at: www.rochesterfringe.com 
 
Press about COLLECTED STORIES:
Time Out New York mentions us in the best theater to watch online: https://www.timeout.com/newyork/theater/the-best-theater-to-watch-online-today-september-10-to-september-16
Time Square Chronicles too: https://t2conline.com/what-to-watch-september-15th-to-take-away-the-blues/
Broadway World: https://www.broadwayworld.com/central-new-york/article/Austin-Pendleton-Directs-COLLECTED-STORIES-Starring-Judy-Rosenblatt-and-Annemarie-Hagenaars-20200901
Interview with This Week In New York: http://twi-ny.com/blog/2020/09/13/rochester-fringe-festival-collected-stories/
An interview with Austin, Judy and me in NJ Discover: http://www.njdiscover.com/2020/08/27/nj-discover-spotlight-article-previewing-an-upcoming-magical-zoom-performance-during-the-pandemic-for-this-september-at-2020-keybank-rochester-fringe-festival-the-virtual-production-of-the-play/
A radio interview with AmsterdamFM radio: https://www.amsterdamfm.nl/de-lockdown-in-tien-vragen-annemarie-hagenaars/
HB Studio: https://hbstudio.org/category/news-events/student-alumni-news/